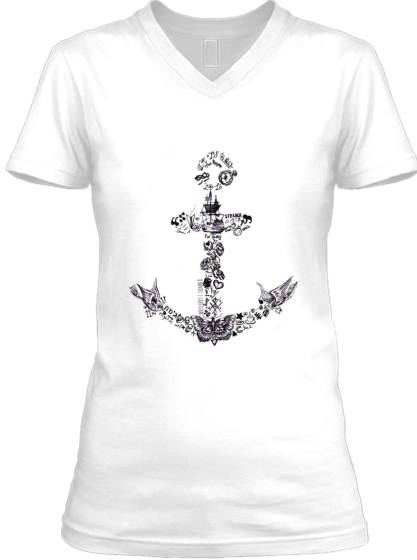 Larry Anchor Shirt: $14.50
Legalize Larry Shirt: $12
#ShowYourSupport Rainbow Shirt: $17
A couple of nights before the Olympics, my girlfriend was dyeing her hair peroxide blonde and I just said, 'It will be funny to shove a bit of blond in my hair at the front!' So I just did it for a bit of a laugh and made this big massive blond streak. Then I realised the Olympics in a couple days and I was like, 'What am I gonna do?!' I tried to style it out but it wasn't happening, so in the end I just left it. Part of me was singing on that truck and thinking, I hope people don't cuss me for this blond streak! Turned out people liked it. Then, bizarrely, Marvel Comics said that my look had inspired the new version of Ghost Rider. The blond streak is the fire that ignites from him, which is mad. I'm a big comic book fan - when I was a kid I was pretty geeky about all that. Obviously, I also have my 'Zap!' tattoo on my forearm, so when I heard about the new Ghost Rider that was pretty cool. I've since been to the Marvel Studios, which was an amazing experience. —zayn malik, who we are autobiography (via
intoxicatemezm
)
when you trying to pose for a picture but he grabs yo ass
Zayn talking about Lux interrupting his hair cut.
What are you guys doing?!

http://ourlittlesecretisout.tumblr.com/post/98818595107/lwwy-charlotte-september-27

Harry is standing in Louis' usual spot for the choreo and Louis is letting him. Hehe. :)

also whytf is it only ever with Louis that Harry is standing in his spot or taking his mic stand, don't answer this, we all know you would've used the "you know why" gif
tonight's going to be great x
for sell. finally. http://teespring.com/showyoursupportlarry 
#I'M NOT CONFIDENT BUT I'M GONNA GIVE IT A GO ANYWAY: THE ZAYN MALIK STORY [x]

harry: you ready to play the biggest show of your life? [x]

I'm going to punch the floor until my hands come off
Friendly reminder Harry is taken by Louis
Favorite #worstcarrotmoment posts (You know you've been here long enough if you can relate to all of these)
It's been three years since the not at all set up pictures of Louis and Eleanor in Primrose Hill that were so HQ you could even count Louis' eyelashes and she wasn't bothered at all by the fact that strange people with big cameras were following them around even though they weren't even dating!!!

So shy, so private, so genuine. Not a set up AT ALL.

Specially because this is the Exit data:

***Exclusive***
One Direction's Louis Tomlinson and girlfriend Eleanor Calder
take a romantic stroll on a sunny day in Primrose Hill
London, England - 30.9.11
Mandatory Credit: Kate Wooldridge/WENN.com

This is the photographer and this is the website linked to it. The photographer MOSTLY DOES WEDDINGS.

All famous people hire photographers to chase them around a park when they're strolling around with the person they're "getting to know". PFFFFFFFT.

HAPPY ANNIVERSARY!

I'm reblogging myself because this is the photographer's bio:

Hi,

My name is Kate – let me tell you a little about myself.

I  live in London and have been a professional photographer for the last ten years.  I first started using a camera at a very early age, thanks to my step-father David.  I have a creative approach to the pictures I take and like to get together with the future couple  to discuss ideas that they have and chat about what I think could be done to make a great set of photos look even better.

I enjoy injecting fun into the day – a wedding should be enjoyed fully!  I also like to take photographs as unobtrusively as possible – many people, who look at the pictures after the wedding, didn't even know they were being photographed.  For me, this is the best way to get natural shots that show the true character of the person.  Daniel, who is my 2nd photographer has the same approach and absolutely loves taking pictures.  He's also very good at getting the ones you didn't know were being taken.

I am available via skype, email or just the plain old telephone to have a chat.  If you are local in London, I would be very happy to meet you both to talk about your plans and ideas and what you are looking for.

I have a sister website which is www.pinkpictures.eu – please take a look there too to see more pictures.

A personal photographer from London. COUGHSCOUGHSCOUGHSHIREDCOUGHSCOUGHSCOUGHS.